The enchanting land of the northern California Central Coast is saturated with vegetation among its rolling hills, valleys, and sweeping coastlines. Only three and a half hours between the bustle of Los Angeles and San Francisco, San Luis Obispo County is summed up by its relaxing pace of vibrant life each season. The welcoming locals, fresh fusion of California cuisine, and the endless possibility of adventure through miles of picturesque landscapes are reasons to fall in love with every bit of it.
Inland in the north is the world-renowned wine region, Paso Robles. This old pioneering Wild West settlement has emerged into a well-revered gastronomical scene of locally made wine tasting, pristine cocktail bars, and fine dining restaurants that push the envelope of California fusion cuisine. There are several boutique hotels downtown and bed and breakfasts located on the outskirts of town on their own estates, providing travelers insight into authentic farm life.
The heart of downtown Paso Robles contains a number of exceptional restaurants, one of them being Les Petites Canailles, a contemporary French farm-to-table menu with an approachable twist of California seasonality created from the pedigree of Courtney Asseo and husband Chef Julian Asseo, who studied culinary arts near Bordeaux.
Translated as "the little rascals," Les Petites Canailles pays homage to owners Chef Julien and Courtney's children. Valuing the craftsmanship of their family, a section of the wine list is dedicated to bottles made by Chef Julien's family. The exceptional wine pairs to create a perfect union of flavors with each dish, and the modern setting creates an elegant yet casual experience for diners to enjoy an intimate piece of Paso Robles. Chef Julien shares his recipe for Escargot Risotto with Garlic Parsley Butter with TABLE readers here.
After you sip and taste your way through Paso Robles, taking the scenic Highway 46 to head west, you will arrive in Cambria, a quaint Euro-inspired town by the sea full of antique markets and cozy dining settings tucked within pine trees. Nearby is a decadent museum, Hearst Castle, a 1917 mansion estate with embellished interiors curated worldwide by publishing tycoon William Randolph Hearst.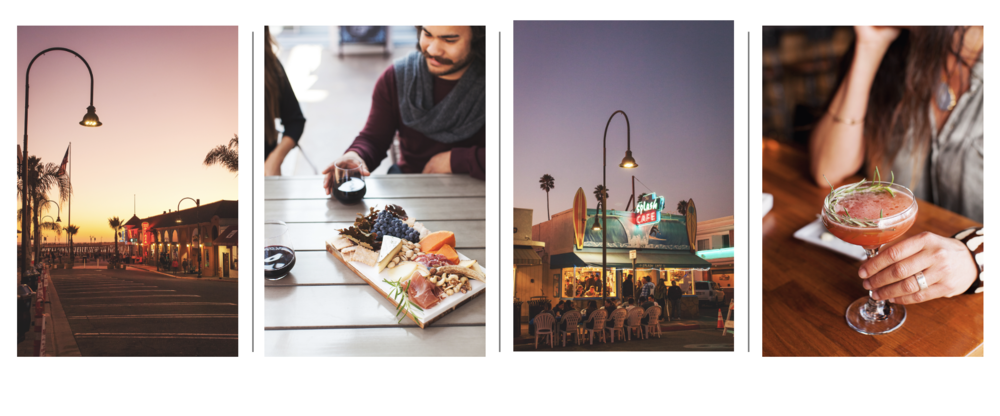 Heading south down the coast on Highway 1, known as the famous PCH, takes you to Cayucos and Morro Bay, two adjacent, petite coastal towns with delicious seafood and cheery beaches.
Traveling south of San Luis Obispo County on Highway 1 brings you to San Luis Obispo. This city has a lively, cheerful charm that fills its streets, which is probably why Oprah coined it the "Happiest City in America."
On a Thursday evening at the San Luis Obispo Downtown Farmer's Market, five blocks of downtown SLO transform into a street fair where live music becomes a spectacle. At the same time, pedestrians stroll among over 100 vendors of farmers with weekly fresh produce, street artists, and gourmet food purveyors: eclectic shops and a variety of restaurants worth checking out frame the market.
San Luis Obispo is vast and filled with magic. It's a unique place that grants experiences of wholesome fine meals, complex locally made wines, and endless outdoor adventures — all year round.
WHERE TO EAT
The Hidden Kitchen, located a block from the beach, is a brunch restaurant known for its housemade blue corn masa waffles and tacos. Serving both savory and sweet dishes on a pleasant outdoor patio with a respected, honest staff.
113 North Ocean Avenue, Cayucos
2164 Center Street, Cambria
The Alchemists' Garden in downtown Paso Robles is a mystically themed cocktail bar and eatery with picture-perfect cocktails and dishes that fuse together tasty flavors made for sharing. The walls are covered in vines and plants.
1114 Pine Street, Paso Robles
Giovanni's Fish Market has the country's freshest fish and sits right on the bay, looking to Morro Rock in Morro Bay. Whether it's the fresh oysters, crispy fish, chips, chowder, or poke bowls, there's no way to go wrong here for a delicious seafood-filled lunch with pleasant seaside views.
1001 Front Street, Morro Bay
The Flour House adheres to a true passion for Italian culture with its dedication to the craft of wood-fired Pizza Napoletana, with warm and well-able servers to walk you through the menu. The pizza and pasta are enjoyed in their elegant location, inside or out on the garden patio. The cocktails and wine list are the perfect backdrops for the delicious, cheesy flavors in the dishes.
690 Higuera Street, San Luis Obispo
Luna Red is an upscale fusion of Spanish, Mediterranean, and Mexican-style fair with Latin-inspired architecture and a gorgeous plant-filled outdoor patio right next to the mission in San Luis Obispo. The ceviche is marinated in a delicious savory citrus juice, and the tacos have options for perfectly seasoned, tender meats. Lastly, the chef's paella is a party of a meal for the whole table — an excellent brunch, lunch, or dinner spot.
1023 Chorro Street, San Luis Obispo
GREAT PLACES TO STAY
Kindred Oak Farm is a bed and breakfast and organic farm submerged in oak trees and vineyards just outside of Paso Robles. Staying here allows travelers to peer into what it's like to experience authentic California farm life. Owners Lisa and Robert Peach are incredibly warm and welcoming and renovated the property to be as beautiful as it currently is.
1250 Paint Horse Place, Paso Robles
South in the countryside of San Luis Obispo, La Lomita Ranch is romantic lodging with Spanish-style architecture. Though it's known for its weddings and other special events, there are several bed and breakfast options — whether you choose their entire three-bedroom hacienda or inn rooms decorated with luxurious Mexican furniture.
1985 La Lomita Way, San Luis Obispo
Possibly what San Luis Obispo is most famous for, The Madonna Inn was built in 1958 and is the Central Coast's iconic gaudy pink hodge-podge of classic ranch style meeting ornate floral decor. The whole place is covered in bright textures that will delight your entire being, and every room has a different theme. Don't forget to try the famous pink champagne cake topped with swirly pink fondue!
100 Madonna Road, San Luis Obispo
The Cambria Pines Lodge is a perfect place to stay in the wintertime. It's rustic and tucked under the pine trees of Cambria. The Fireside Lounge has a bar and restaurant with a fireplace and live music on most weekends. The Cambria Christmas Market is located on the grounds and consists of various Christmas light art pop-up decorations to stroll around and see.
2905 Burton Drive, Cambria
A luxurious mixture of fine Western, Eastern, and new-age crystal culture is fused together at Allegretto Vineyard Resort in Paso Robles. Full of art, wine, and pleasant areas for lounging and relaxing. The grounds hold weekend yoga, guided meditations, vineyard tours, and wine tastings on-site.
2700 Buena Vista Drive, Paso Robles
THINGS TO SEE
Sensorio is a 15-acre field of lights with award-winning light installations created by Bruce Munro. The lights blend with the landscape's topography to create a dazzling show of colors across rural east Paso Robles. Buy tickets online before visiting.
4380 Highway 46 East, Paso Robles
Hearst Castle is the ultimate castle museum located on a mountaintop overlooking the ocean right near Cambria. The Hearst family once owned it as a booming estate for guests to stay in its embroidered interiors filled with foreign furniture. Drive to the visitor's center and get tickets for a walking tour.
750 Hearst Castle Road, San Simeon
Montana de Oro State Park is a beautiful nature park with umber-colored volcanic rock formations lining the sea and hikes that take you into luscious valleys filled with the smell of black California sage and coastal live oak trees. This strip of coast is a seemingly untouched landscape with so many areas to submerge yourself within its natural beauty.
Pecho Valley Road at Montana de Oro State Park, Los Osos
PLACES TO SHOP
The general store is located directly in the downtown square of Paso Robles and is full of local gifts, books written by local authors, and art – a well-curated Central Coast shop to find all sorts of lovely goods and tasty local snacks.
841 12th Street, Paso Robles
"Hats that embody the California Central Coast Lifestyle." Sabreena of Stellar & SUN makes quality, crafted California-style wide-brimmed hats in her studio. Using American-made beaver and rabbit felt, she follows techniques traditional cowboys have used for ages. Call or text to make an appointment before visiting the store.
6090 El Camino Real, Atascadero
The Hands Gallery is a curated art store with funky and earthen-colored art, such as home decorations, pottery, jewelry, kitchenware, and other goods. The store's selection is filled with bright handmade items to be taken home as a great way to remember your trip on the Central Coast of California.
777 Higuera Street, San Luis Obispo
A Satellite of Love is a vintage curation of eclectic California-style local goods, clothes, records, and trinkets a couple of blocks from downtown San Luis Obispo. A charming atmosphere that sometimes holds live music events.
1335 Walker Street, San Luis Obispo
Story by Natalya Sutmiller / Photography by Jennifer Olson
Don't miss a single delicious thing: Subscribe to TABLE Magazine's print edition.