DB Design Center renovates a kitchen for a family just starting out. The results: sleek, stylish, and functional.
You might expect Doug Barrante to be an investment banker or a stockbroker since he has a BA in economics from Pitt and an MBA in finance and marketing from Penn State. As it turns out, his mom had a bigger influence on him and his brother and business partner, Paul, than his professors. Doug is the head of operations and design for DB Design Center in Cranberry Township; Paul is chief business officer.
"Mom was an interior designer and had her own art gallery, and we would work with her," Doug says. She was a designer for Dream Waterbeds, and after the store closed for the day, we would go in and do the showroom displays."
The space needed to reflect the clients' "trend-forward" design taste.
Boldly Go!
DB specializes in kitchens and bathrooms but can tackle any project. Their forte, Doug says, is "turning boring suburbia into sleek contemporary." A recent kitchen renovation by staff designer Chrissy Norman did just that. The location — just outside North Park — was great. "But it was a really boring 1990s home that had been rented," Doug says. "The tenant had trashed the kitchen, and the landlord called us to replace the countertops. We told them he was wasting his money." Someone else could remodel the kitchen to their liking.
That's what happened. A young couple — two women just starting their family — bought the house and asked for DB's help. The clients are very "trend-forward," Chrissy says, "so the space needed to reflect that." But it also needed to be childproof, a goal Chrissy achieved even though she "pushed the design elements and made bold choices."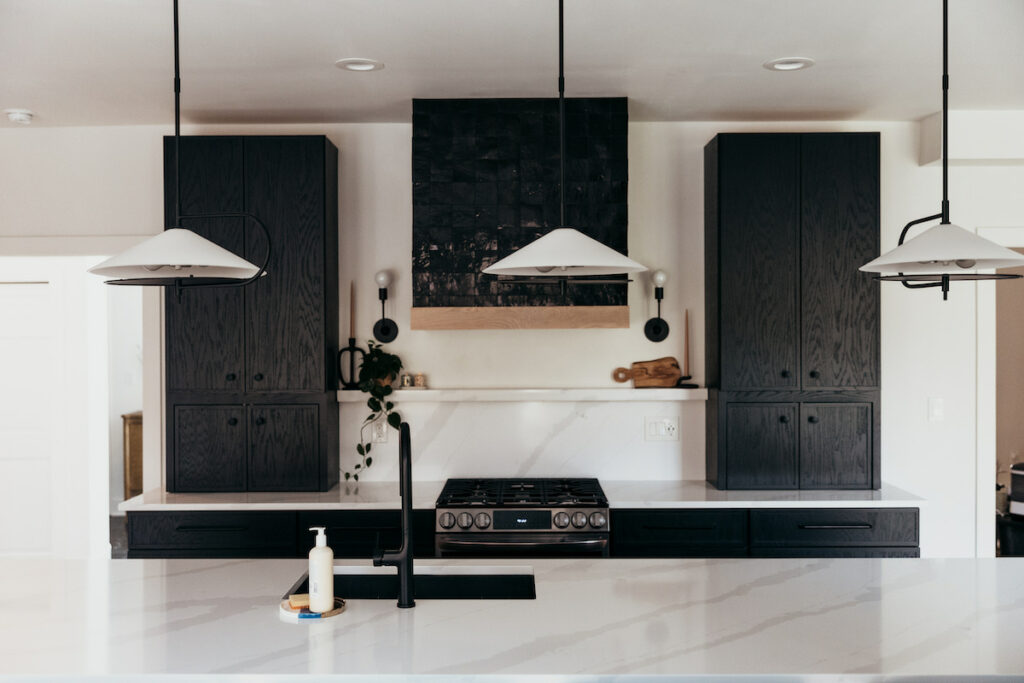 A large white granite center island begged for pendant lights.
All An Illusion
Her biggest challenge was creating the illusion of more space. Removing the wall between the dining room and kitchen created an open floor plan but cut down on wall space for cabinets. To solve that problem, they installed a giant white granite center island with ample room for storage at both ends. Once installed, the island begged for three signature pendant lights.
"Lighting is so important in my design choices," Chrissy says. "Kitchen lighting is at eye level, so making a statement there is a must for me… the shape of the [black] rod swooping around the light pendant caught my eye, and the scale for the space sold me. [The pendant lights] were just the right amount of interesting without overpowering the overall design."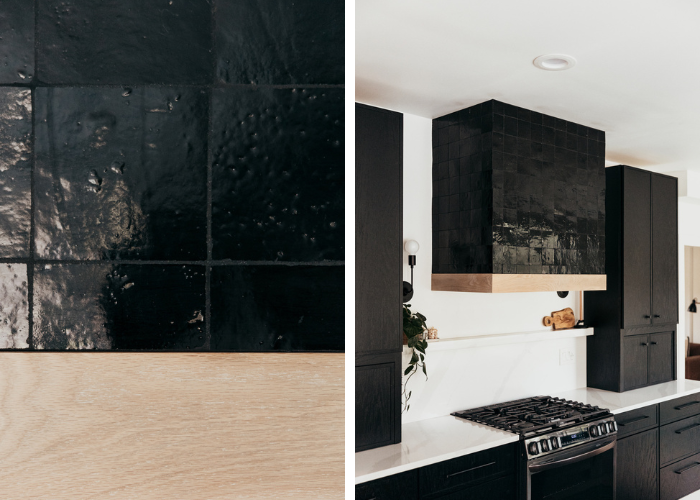 The color black is featured throughout the kitchen.
Black is the New Black
Black is prominent throughout, accenting the light-stained floors and oak cabinetry. The tall faucet and granite workstation sink in the island, both by Kraus, the hardware, and the gleaming zellige tile range hood by Villa Lagoon are all black. The appliances are black stainless, a pretty but practical choice, Doug says, because its matte-like finish is not likely to show fingerprints. (DB does not supply the appliances but recommends clients purchase from a reputable dealer. "Most of them go to a local appliance dealer like Don's," says Doug.)
The kitchen is actually three distinct but complementary spaces. On one side of the prep island is a casual dining area with a chunky black rectangular table and bench; on the other is a cozy nook with black leather chairs and animal-printed foot stools, perfect for coffee and conversation. The Pella window frames are black, but because they are unadorned, light fills the room. A whimsical three-tiered rattan chandelier over the table lightens the mood.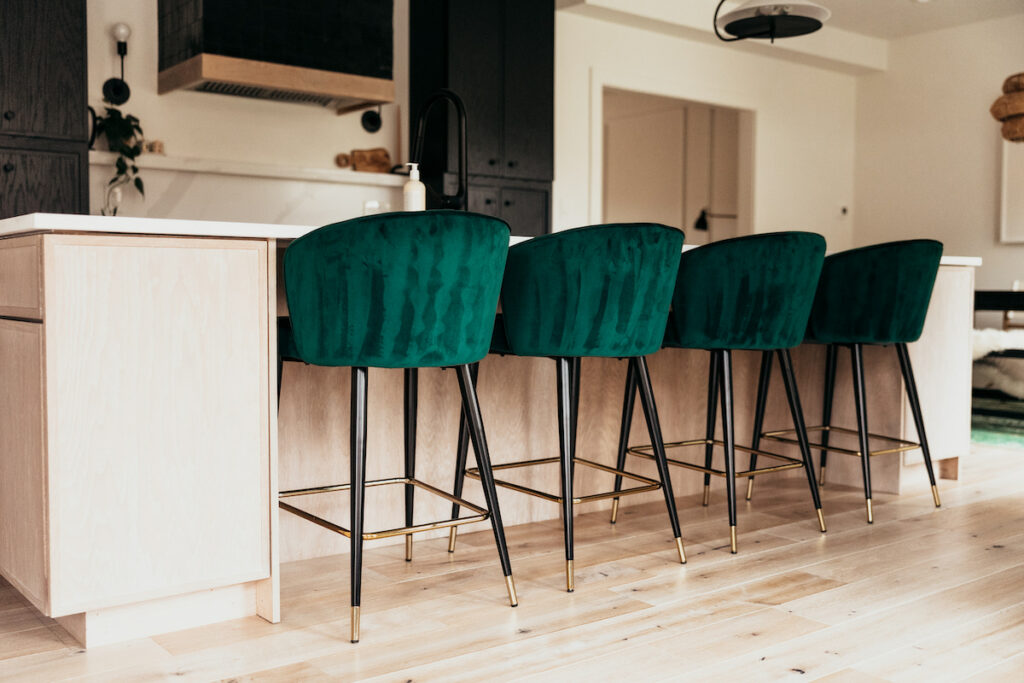 Emerald chairs act as a splash of color.
The only splash of color in the design is the emerald green stools that flank the island. The integrated space is a perfect backdrop for the couple's extensive art collection, which Chrissy helped place.
A Fine Balance
DB Design Center's designs are fresh and contemporary but not so trendy as to need constant updating. Doug's approach? Choose relatively traditional styles and finishes for expensive items such as cabinetry. Choose cutting-edge fixtures, hardware, and accessories because they can be changed easily. For instance, the pulls on the cabinets, which are called cocktail knobs and look a bit like a martini glass from the side: they would be easy to switch out should a new vision for the space take root.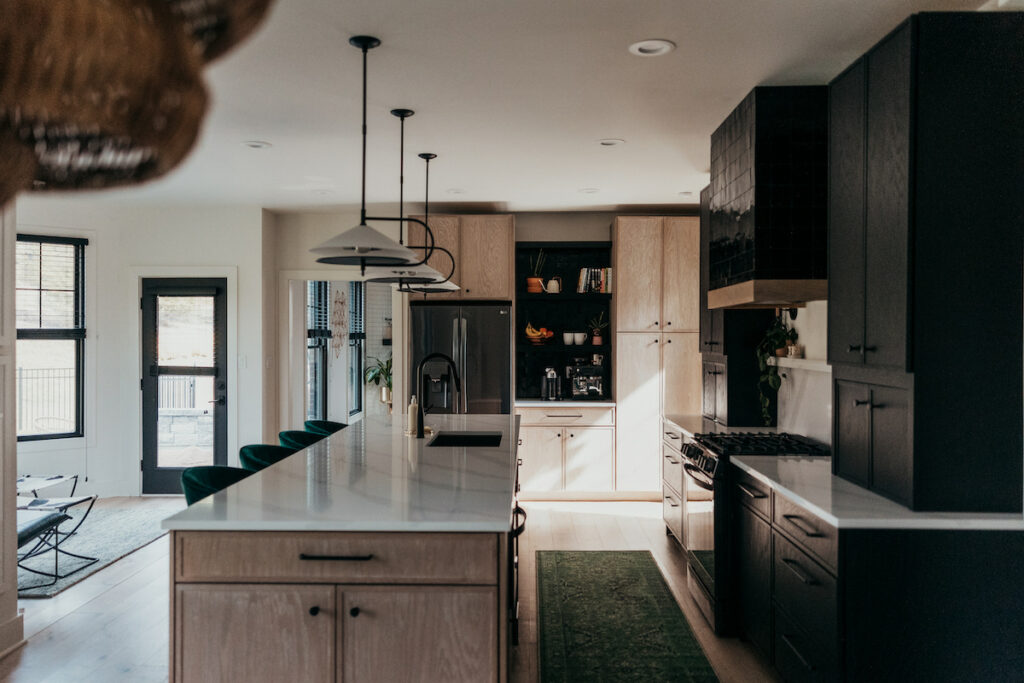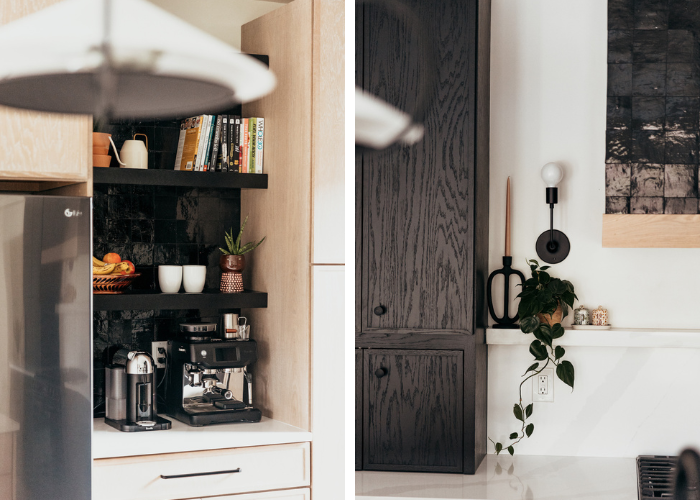 Seems like the sweet spot, then, is somewhere between being quick to embrace new trends and trending too far over the top. That's a good piece of advice Doug might have received from his mother.
Appliances
LG 36" French Door Refrigerator
LG 30" Slide-In Natural Gas Range
LG Top Control Smart Dishwasher
ZLINE 24" Built-in Microwave Drawer
Story by Susan Fleming Morgans / Photography by Tyler Norman

Subscribe to TABLE Magazine's print edition.