It's a must on Santa Fe's culinary calendar. The Wine & Chile Fiesta returns for its 32nd year, September 27 to October 1, 2023. It all started in September 1991 as a one-day food and wine event. Today, it's five days with over 60 restaurants and 90 wineries. Come hungry (and thirsty), and you're guaranteed to leave happy and full. We asked six chefs who are taking part to prepare one of their dream dishes.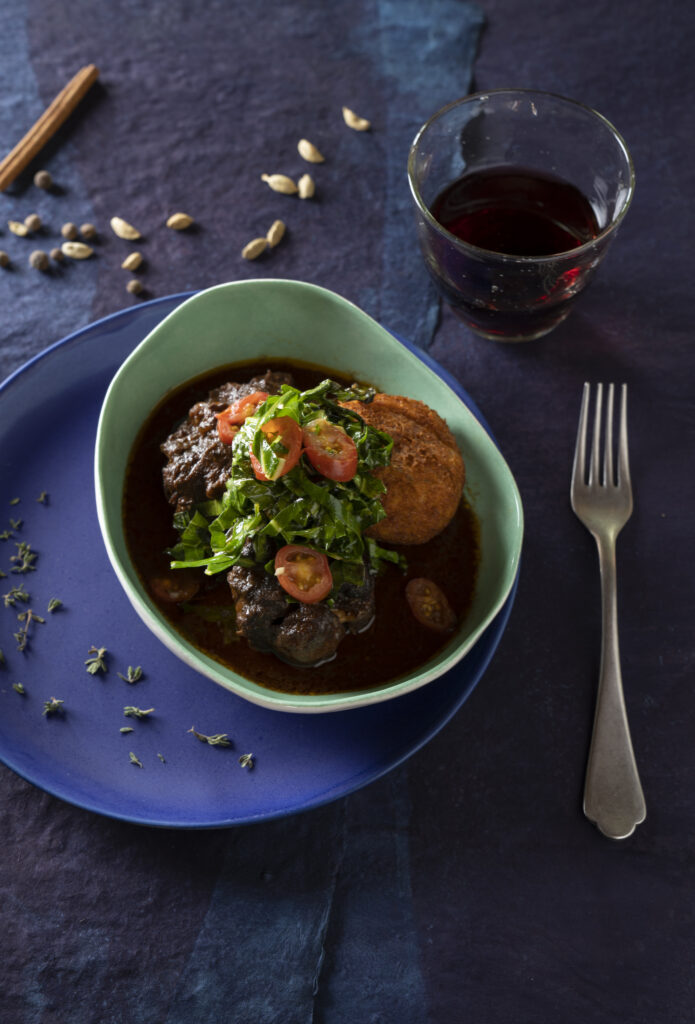 Caribbean-Spiced Slow-Cooked Oxtail with Mofongo & Collard Greens
Chef Ahmed Obo's oxtail dish is comfort food that meets the Caribbean. The oxtail is tender and melting. The collard greens cut through the richness of the meat, while the mofongo–a patty made with green plantains–is the perfect sponge to soak up the juices. What to drink? Chef Obo suggests a Porcupine Ridge Syrah from South Africa. It's full-bodied with ripe dark fruit flavors and a hint of black pepper and violets–just the thing for this Caribbean comfort classic. Get the recipe here.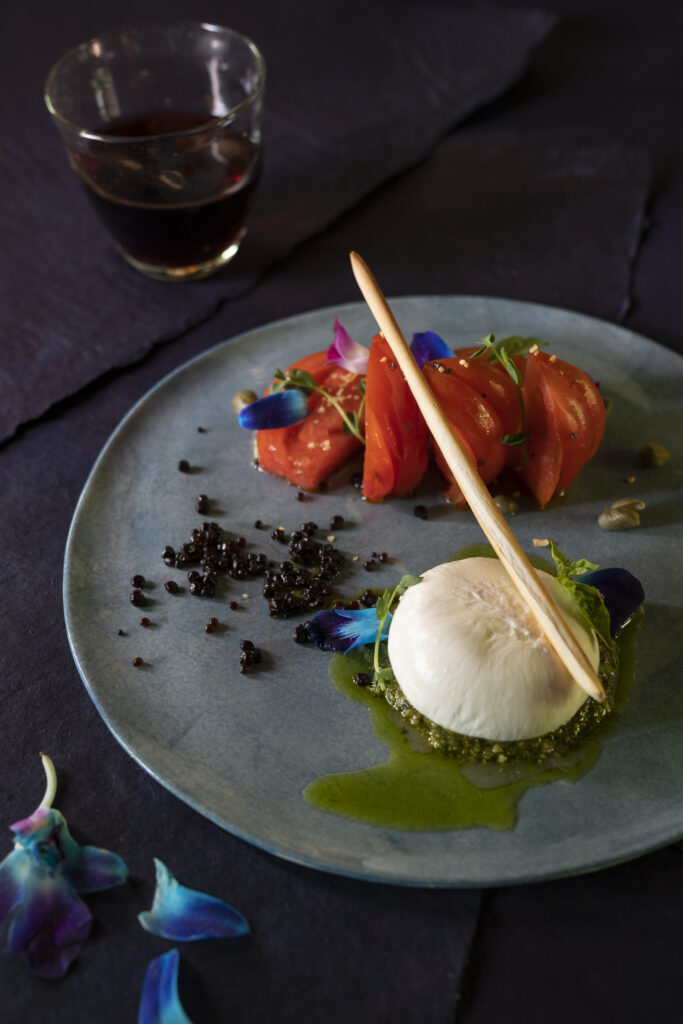 Burrata Caprese
There is Caprese salad, and then there is Sassella's Caprese salad. Chef Cristian Pontiggia starts with house-made burrata, pairs it with local heirloom tomatoes, adds capers for a sharp punch as well as a swirl of walnut basil pesto, and finishes it with a garnish of Hawaiian basil, tangerine Calabrian chile oil (a game-changing ingredient), dehydrated garlic, volcanic black salt, and balsamic pearls that he creates. It's a dish that speaks to both the eyes and the stomach in equal measure. To drink, he suggests a Brunello di Montalcino: "Strong on flavor, but with the burrata, a perfect pairing." Get the recipe here.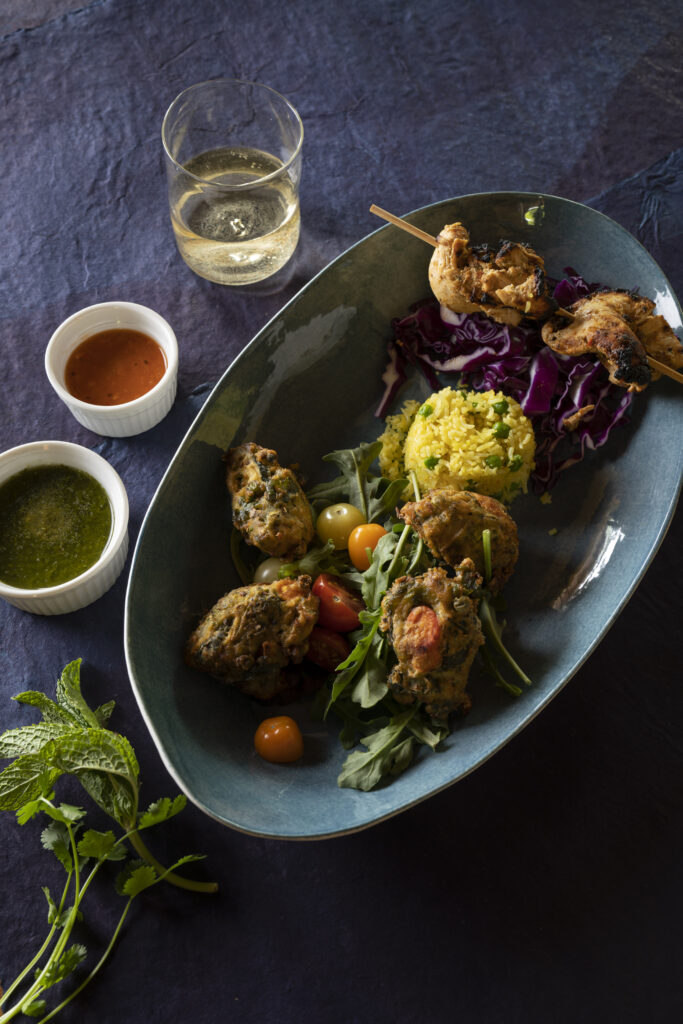 Chile Pakora with Cilantro-Mint Chutney and Chicken Malai Kebab with Mango Habanero Chutney
Ask Chef Paddy Rawal what inspires his cooking and he'll tell you two things. "People eat with their eyes first, and spice is for flavor, not for heat." His food is indeed eye-catching, colorful and bright, generous with herbs like cilantro and mint. His use of spices is a masterclass with everything from fenugreek leaves, chaat masala, carom seeds, coriander, and cumin making appearances. The result is food that is balanced and spiced impeccably. It's also a food that's as generous and welcoming as the chef himself. Get the recipe here.
Teriyaki-Glazed Octopus with Sticky Rice, Wasabi Emulsion, Yuzu Aioli & Furitake
Chef David Sellers's dish, like the food he serves at his restaurant Horno is all about contrasts. Here there is richness from the teriyaki, balanced by the acidity from the yuzu and heat from the wasabi. To drink, Chef Sellers suggests L'Escale, a Sauvignon blanc from the Loire Valley. It's juicy, fresh and can hold its own with this dish. For Sellers–a seasoned Wine & Chile Fiesta veteran–the annual event never loses its magic. "I love it. I'll always support Wine & Chile. I think it's one of the best events in Santa Fe." Get the recipe here.
Salmon Poke with Yuzu
Chef Dakota Weiss's Salmon Poke with Yuzu is nothing less than a plate of edible art. The ingredients–from the wafer-thin slices of lotus root and Fresno chile, to the green pops of color from her avocado purée–create a dazzling display of contrasting yet complementary flavors and textures. Artfully arranged gold flake miso sesame cracker shards are the pièce de resistance. To drink? Chef Weiss suggests a dry Riesling or an Albariño as the perfect accompaniment to this work of art. Get the recipe here.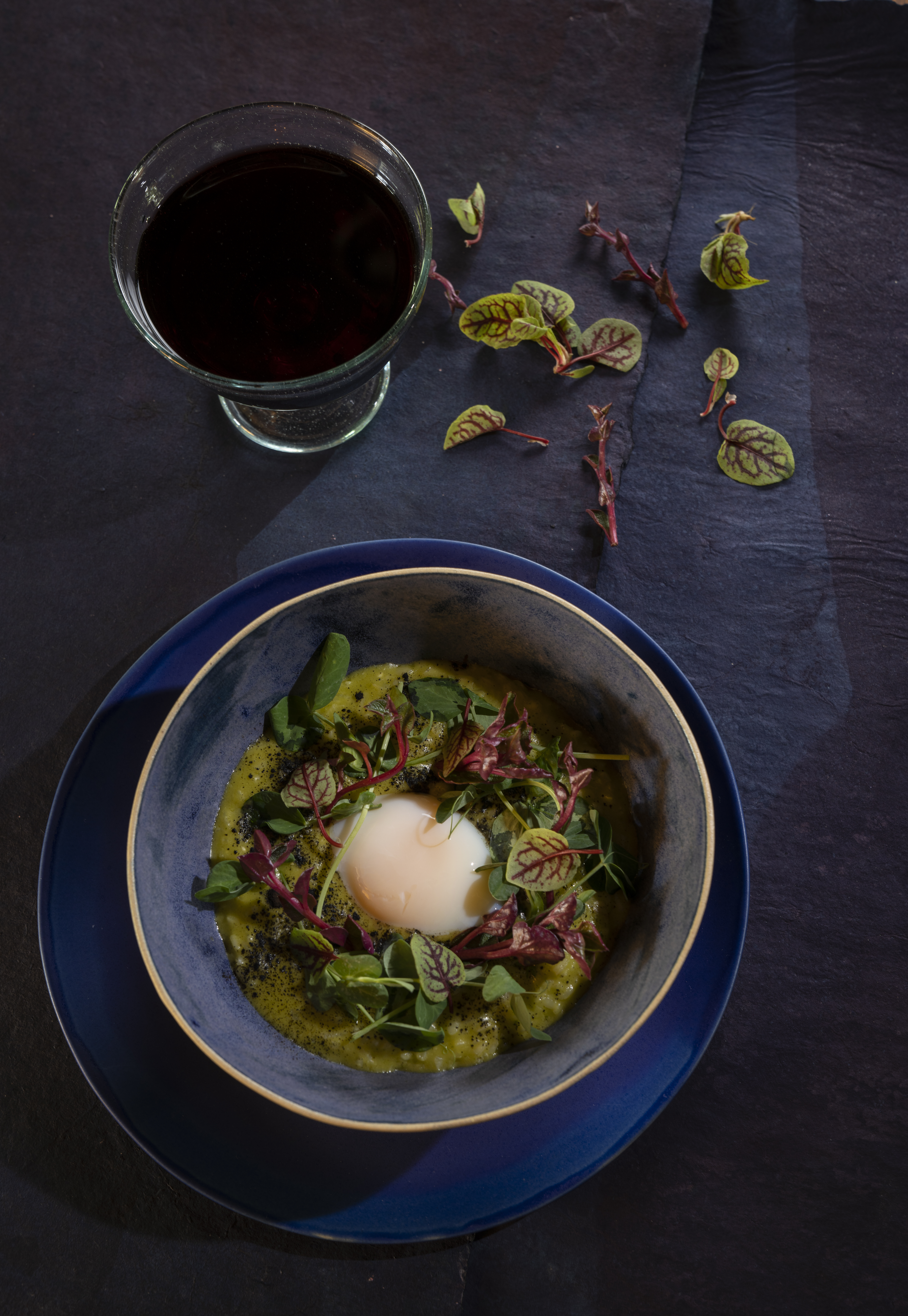 Green Risotto
Ask Chef Peñalosa Nájera of Bishop's Lodge about the ingredients for his signature green risotto and the answer is simple: Hatch green chile, poblano, "perfect egg," and mushrooms. But probe deeper and you'll discover a huge amount of technique behind this Southwestern riff on a classic Italian risotto. Chef Nájera is from Mexico City and has worked in Colombia, Spain, and England and this immersion in other cultures and cuisines shows in his food. "I try to bring my own experience of traveling to this dish," he says, and it shows. Get the recipe here.
TABLE Magazine New Mexico is a proud sponsor of the 32nd Annual Santa Fe Wine and Chile Fiesta.
Story and Styling by Julia Platt Leonard / Support from Alex Hanna / Photography by Kate Russell / Dinnerware Courtesy of Wild Life Santa Fe
Subscribe to TABLE Magazine's print edition.