Where did spring go? Our fingers are crossed for the warmer weather to return…
A Taste of the American Century
August Wilson African American Cultural Center, April 26
In this memorable foodie experience, the AWAACC cafe becomes the stage for a dinner highlighting the many historical Black food and desserts mentioned in the famous playwright's American Century Cycle.
Cion: Requiem of Ravel's Bolero
PNC Theatre at Pittsburgh Playhouse, April 27 to 28
Drawing inspiration from Zakes Mda's novel Cion and Ravel's Boléro, South African choreographer Gregory Vuyani Maqoma's Cion: Requiem of Ravel's Boléro uses singing, crying, and striking movement to give an intimate look at our connection with the loss of life.
Spring Gallery Crawl
Cultural District, April 28
2023's Spring Gallery Crawl marks the return of several popular stops: the TRAP + Paint series with Kuwame Kinsel of BOOM Concepts, the WPTS Radio local music showcase, where two acts chosen by the University of Pittsburgh's student-run radio station perform live, and the hit after-hours Silent Disco. As always, new and already on-display exhibitions are the stars of the crawl, with thrilling entertainment and shopping options like Street Magic and Fashion is Art — a joint mother-and-daughter arts pop-up at Fresh Nostalgia Boutique — peppering the evening.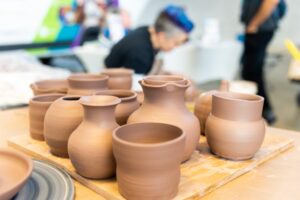 Handmade Arcade Spring Market
Construction Junction, April 29
Do you desire a little spring refresh? Handmade Arcade's annual Spring Market is home to 33 local artisans and makers offering one-of-a-kind accessories, artwork, statement pieces, and more to adorn you, your home, or both.
Tiny Little Beer Fest
Allegheny City Brewing, April 29
Whether you enjoy ales, lagers, dark brews, or something else, every one of the alcoholic beverages at Tiny Little Beer Fest features a 4.5% ABV or less. Joining the other 31 breweries and their low-alcoholic drinks are food trucks, music, and a special local collaboration beer.
Luke Combs
Acrisure Stadium, April 29
Country fans, rejoice! Another year, another boot-stomping Luke Combs performance — a little over a month after the release of his latest album, Gettin' Old.