Trail to Table
Is it a walking picnic, a progressive brunch, or just our new favorite hang?
(Hint: All of the above)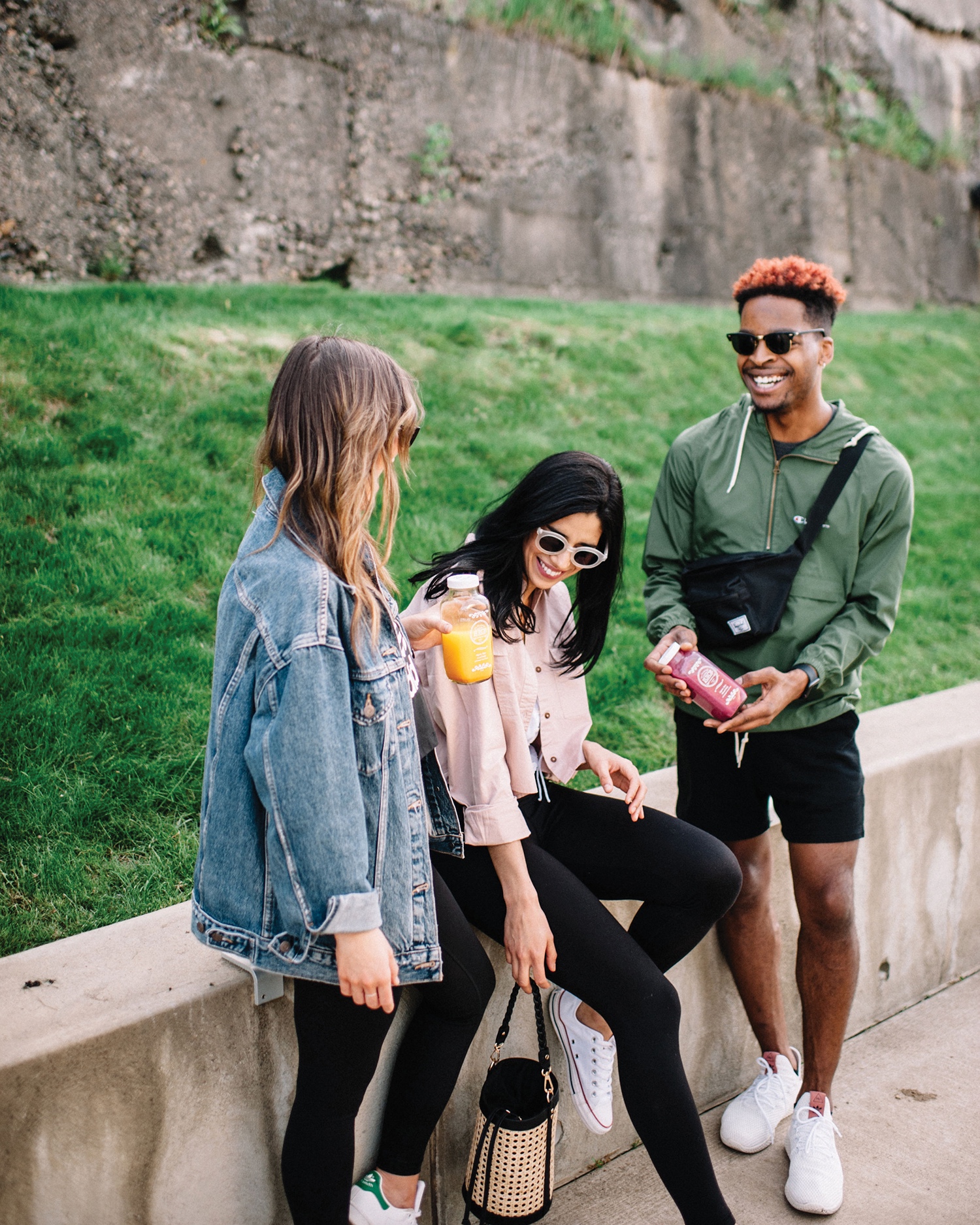 This trend in food and lifestyle is here to stay. Fill your fanny pack with some cleansing and invigorating juices from Pittsburgh Juice Company (pittsburghjuicecompany.com) before you hit the trail. Do something good for your body to balance some well-deserved decadence post-hike.
Gathering on the go
It's the dawn of a new golden age for Pittsburgh's trails and riverfronts. With the beautiful weather here to stay for a few glorious months, the new hang-du-jour consists of exploring our city on riverfront trails and then heading out to enjoy some food and drink.

Fuel your fire
Our pick for post-trail treats is Chef Chris and Jen Bonfili's vibrant new Bonfire Food & Drink (bonfire-pgh.com) on Carson Street. Snack on roasted carrots and shishito peppers with curry, mint, almonds, and yogurt; the freshest PEI mussels with super-flavorful smoked tomato nage and perfectly crusty bread; and their famous crispy Brussels sprouts with smoked grapes, hazelnuts, and brown butter aioli. Wash it all down with buzzy bourbon cocktails and a few glasses from one of the best new wine lists in the city.

A new side of South Side
Go off the beaten path, away from the bars and bustle. Take the riverfront trail up through the picturesque South Shore Riverfront Park ampitheater and through the SouthSide Works, which is currently undergoing an exciting update. A little birdie told us there might be some famous public art going in there soon to cap your hike with the perfect Instagram opp to document the day.
TRAILS TO EXPLORE

Mon Wharf Switchback:
This cool city amenity fills the gap in the riverfront trail system connecting Smithfield Street Bridge to Mon Wharf Landing.
Hazelwood Green:
An exciting riverfront trail, just opened to the public
Three Rivers Heritage Trail:
Stay tuned for pop-up fun this summer along this stretch (but be advised of a trail detour from 15th to 19th Streets due to the boom in riverfront real estate construction).
Story by Nicole vale // Photography by sarah collins